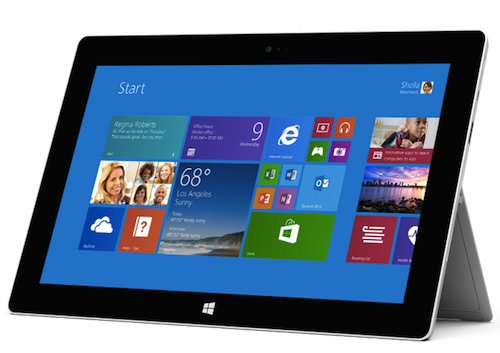 Surface 2 owners can now enjoy the benefits of a free Skype subscription for one year from their date of purchase.
The features and benefits they can enjoy are the following:
Unlimited free calls to landlines in 60 countries around the world
Unlimited free calls to mobile numbers in 8 countries around the world
Unlimited internet connection with Skype WiFi at over 1 million public hotspots worldwide
Live chat support
No third party ads in Skype
However, the following Skype features are not included in this offer:
Screen sharing: This feature is currently not available for Windows 8.
Group video calling: This feature is currently not supported on Surface 2. However, group video calls are available on your computer with Skype Premium.
This free offer is only available within 90 days from purchase of Surface 2.
This free subscription can also be used with other devices. After the voucher has been activated, the calling subscription can be used on any device supported by Skype when you use your Microsoft Account to sign in to Skype.
However, free Skype WiFi is only available for Surface 2 and Suface 2 Pro devices.
Here are the countries supported for calling mobiles and landlines with the free Skype subscription:
Canada
China
Guam
Hong Kong SAR
Puerto Rico
Singapore
Thailand
United States
Here are the countries supported for calling landlines only:
Andorra
Argentina
Australia
Austria
Belgium
Brazil
Brunei
Bulgaria
Chile
Colombia
Costa Rica
Croatia
Luxembourg
Czech Republic
Denmark
Estonia
Finland
France
Germany
Guadeloupe
Greece
Hungary
Iceland
Indonesia(Jakarta)
Ireland, Republic of
Israel
Italy
Japan
Korea
Latvia
Lithuania
Malaysia
Mexico
Mexico(Guadalajara, Mexico City, Monterrey)
Morocco
Netherlands
New Zealand
Norway
Panama
Paraguay
Peru
Poland
Portugal
Romania
Russia
Russia (Moscow, St.Petersburg)
Slovakia
Slovenia
South Africa
Spain
Malta
Sweden
Switzerland
Taiwan
Turkey
United Kingdom
Venezuela
Please take note that unlimited calls and internet connection with Skype WiFi are subject to Skype's Fair Usage Policy. Also, calling mobiles and sending SMS text messages to destinations not included in the subscription will require Skype credit.
Maximize your free Skype subscription with a Skype voice and video call recorder that allows you to keep a record of important calls made with Skype. You can download the best Skype video call recorder here.
Take full advantage of Surface 2's free Skype subscription and a free Skype video call recorder now! Claim your voucher and download your free software today!