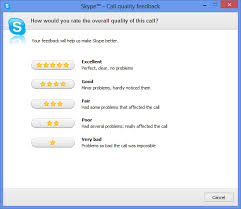 There are millions of Skype users all over the world today, but most of them do not know how to give feedbacks about their experiences in using Skype. This article will show you the different ways to give feedback to Skype. 
Community Boards. In the Skype community, they set up boards where you can submit your ideas and also vote for the ideas of other Skype users. Their team will note the best ideas in their board and will consult with Skype product developers about it. They in turn will discuss these ideas to come with more innovative Skype features in the future.
After Call Feedback. Most users are familiar with this window hat pops up after a Skype call but unfortunately, most of Skype users ignore this feedback channel and just hit the close button. It is important that you give your feedback after a call so that Skype developers will know how to enhance and improve your experience with Skype calls.
Help Menu. There is another way to give your feedback to Skype and that is to open the Help Menu in your Skype. To do this, just log in to Skype and open the "Help Menu" and then click "Give Feedback".
Skype Support Site. You can leave your feedback in the Skype Support website. They have vast information and content about Skype and some useful tips and how to's. At the bottom of the Skype Support page are two buttons where you can click if you are satisfied with what you have read or not. The Skype developers assure that feedbacks are always welcome especially if it will improve the whole Skype experience for all users.
Giving feedback is not the only thing that you can do in Skype. You can also record Skype calls using Supertintin Skype Recorder; the best audio and video call recorder in the market today. It is easy to install and use, just visit their website at supertintin.com to know more about this exciting product.