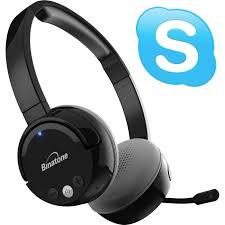 To start a call, you will need to use a headset for Skype for your computer. But if you just want to chat or send instant messages, you do not need to use speakers and headsets. Remember that what you need is a computer headset and not a telephone headset.
A typical computer headset has two connectors; one for the microphone and the other for the headphone or earphone. Some modern headset only has one USB connector. Be sure that your headset has microphone in order for the other person to hear you in a Skype call. 
Before setting up your computer headset or microphone and speakers, you must first know that there are 2 types of connectors: USB type, and mini jack type.
Usually, the mini jack plugs are color coded to match the color of the port where it must be inserted. Standard color of mini jacks is pink or black with pink bands and green or black with green bands. There are also mini jacks that has symbols engraves in it.
In order to connect your microphone to the computer and make clear Skype calls, you need to insert the pink colored mini jack to the port which has a microphone symbol in it.
On the other hand, to connect the speakers, just insert the green mini jack to the matching port with headphone symbol. It's just like playing match the ports to the jacks, even children can do this.
Some headset that has USB connector plug must be inserted to the matching USB port of the computer or laptop. In laptop, it is usually located on the side, while in computers; it is usually located on the front or the back part of the system unit. After you have completed setting up the headset or the microphone and speaker to your computer, then you can start calling your friends and loved ones through Skype.
You can also record those precious moments by using the best Skype Recorder in the internet today: Supertintin Recorder. Supertintin can record Skype video and audio calls clearly and hassle-free. To know more about this exciting product, you can visit their website at supertintin.com.