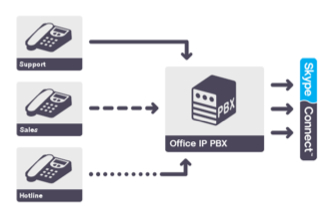 Did you know that you can actually merge the global power of Skype with your current phone line? Skype introduces this great feature called Skype Connect, which grants it users the power to answer Skype calls using their office or home phones. Why spend so much on mobile costs and international calls when you can use Skype Connect? Now, you can stay connected with anyone around the globe while being offline – all for a much lower cost.
First of all, your current PBX (private branch exchange) phone system must be SIP-enabled. This means your phone lines can be tapped to make calls over the Internet. Once you've verified that your line is SIP-enabled, then you can check whether your current system is compatible with Skype Connect. If not, then Skype Connect might not work as well as it should be, and could cause some features to be unusable.
If your current phone line is Skype Connect-friendly, then the rest is easy. All you have to do now is sign in to Skype Manager (download and install it first), buy a few channels, allocate credit to your current SIP profile, and then configure your PBX with your SIP Profile details. You can now start calling your Skype contacts through your office or home phone, and receive international calls through the same phone line with a much lower cost. You can even record Skype calls, whether business or personal, while using your home phone.
Recording Skype calls are now made easy using SuperTinTin, an easy-to-use software that enables you to record voice and even video calls with crisp quality. Use it for your business and even for personal calls. Now you can store important conversations, interviews, business meetings, and memories made over Skype using SuperTinTin. Visit SuperTinTin's site to know more about this amazing software.