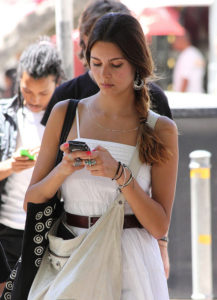 Mobile phones aren't the only gadgets that can send SMS text messages. With Skype, other gadgets like laptops or tablets can send SMS too. All you need is an internet connection cause Skype texting makes it possible. If you don't know how to send SMS text messages via Skype, let me teach you. But before that, make sure that you have enough Skype credits.
Sending SMS to people in your contact list
To send SMS text messages to people on your contact list, first you need to start Skype.
Once Skype has started, choose the person on your contact list you want to send the message to.
Then near the conversation box, you'll see via Skype.
Select it and choose your contact's mobile number. If your contact doesn't have a mobile number, click SMS, enter a number then save it.
Type your message in the conversation box then click send.
A check will appear in the SMS icon if your message is sent.
Sending SMS to people not in your contact list
Go to Skype.
Select the small blue phone icon located in the top left corner. A dial pad will appear after selecting the icon.
Choose a country from the list located on top of the dial pad.
Enter your recipient's phone number then click the blue SMS icon below the dial pad.
In the conversation box located at the bottom, type your message then press enter to send.
A check will appear in the SMS icon if your message is sent. 
This tutorial only applies to Windows 8, Android phones, Mac, iPad, iPhone and Blackberry 10.
Skype is famous for its free video calls. If you want to record Skype video calls, check out Supertintin. It's a free Skype video recorder. To learn more about it, please visit them at supertintin.com