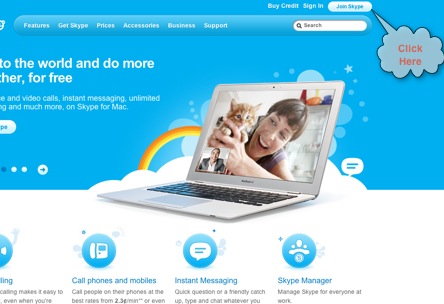 Maybe you're too amazed with Skype now and you want to join?
You can join Skype through your Microsoft account or as a regular account user. With your Microsoft account, you can connect with your Microsoft contacts and will have a better security features. Just never forget your password!
Your Microsoft account should be linked to your e-mail address and password that you're using in any services like HotMail, Messenger, SkyDrive, Windows Phone, XBOX Live or Outlook.
For Microsoft account users, here's how:
Go to the Join us page in Skype's website.
Click Microsoft Account
The Microsoft Sign In page will appear. If you're already have a Microsoft account, simply sign in. If you don't have a Microsoft account yet, just click the Sign Up Now button before registering to Skype.
The Sign Up page will appear. Fill up the necessary fields, then click I Accept. It is advisable to add your phone number and a security question to ensure a safer and more secure Microsoft and Skype experience for you. Don't forget to visit your e-mail to validate your account so that you can use it smoothly.
You're now signed in to your account and logged in to Skype. You can now start making some calls, adding some contacts and even record audio and video calls.
For those joining with a regular account, here's how:
Go to the Join us page in Skype's website.
Fill up the profile details. Be sure to use a valid e-mail in because you will need this in case you forget your password. Also, you will receive important Skype updates and announcement in your e-mail.
Enter your Skype name. This should only be 6 to 32 characters long and should start with a letter and should only contain letters, numbers, commas, dashes, underscores and full stops.
Enter your password. Your password should be 6 to 20 characters long and should contain at least a letter and a number.
Read (Yes, I know) Skype's Term of Use and Privacy Policy then click I Agree-Continue.
 You're now successfully signed in to Skype. You can now start making some calls, adding some contacts and even record audio and video calls.
Now that you're signed in to Skype, you can now use it in your computer, tablet or smartphone, anywhere and anytime. You can also link your Skype to your other accounts like Facebook.
Enjoy your Skype experience!
Skype is a great video and audio calling application. You can even record Skype calls using Supertintin, the leading Skype recorder now. Visit www.supertintin.com for more information about this great product.