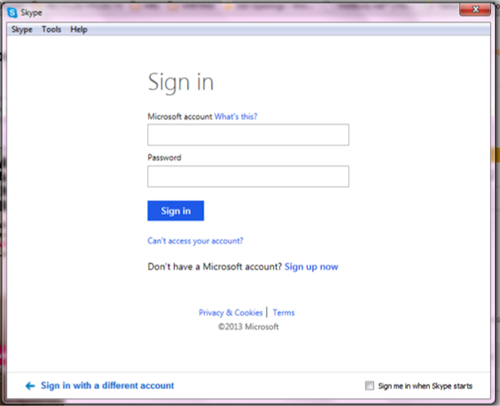 Are you a bit confused on what a Microsoft account is? Not sure if you signed up for one already? If you remember yourself signing up for a Windows Live ID before, that is what it used to be called. The e-mail address and password combination you have can now be used to join Skype. It is the same details you use to sign in to Hotmail, Outlook.com, Messenger or SkyDrive.
Don't worry if you don't have a Microsoft Account yet because it's so easy to create one here – http://signup.live.com.
If you have a separate Microsoft account and Skype account, then don't fret as well. Avoid the hassle of forgetting passwords by merging these two with your Microsoft account. You also get to keep in touch with all your contacts in one place. By merging your accounts, you now have improved security and easier password recovery. Remember, only one Skype account can be merged with one Microsoft account.
Using a device with non-Windows operating system
If your device is an Android phone, Mac, or iPhone, you can still log in to Skype using your Microsoft account. Simply enter your details just like how your friends do it on their Windows device.
Synchronizing and sharing of account information
Your contacts in both accounts gets synchronized once you sign in to Skype with your Microsoft account. The same e-mail address you used to sign in will also be shared. To check this, sign in to your Skype account, click Account details, then Account settings. Browse through the Linked accounts section to view the details.
Now that you've figured out how to sign in to Skype using your Microsoft account, it's time to explore on staying connected with your friends. Supertintin is a third party application that is suited for Skype audio and video call recording. This is a very handy tool you can use whether you are conducting a business meeting or a study group. Download it now and experience both Skype and Supertintin, the Skype recorder you always wanted!