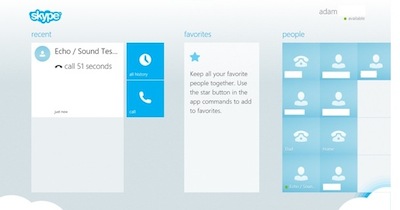 Skype may have already been an important part of your life and with the thoughts of upgrading your OS to Windows 8, what is it in for you? Well, hold on tight to your seats because the good news is,  Microsoft also announced a new Skype version with features you'll surely enjoy.
FEATURES:
Integrated Windows Messenger infrastructure for easier picture, video and audio content on Windows Azure. You can now even record Skype video calls so that you can repeat the call to take down notes or whatnot.
Can be used with other Windows 8 apps so that users can use other programs while they're using Skype so this time, you don't have to close other programs when making a call, or vice versa.
The new Skype will also be upgraded with video messaging capability so that you can still leave video calls even if your contact is offline or is away.
When it comes to the new Skype design interface, its new style allows you to use it with touch devices or with your conventional keyboard and mouse hardware. The app is also always on, so you won't miss most recent calls and messages that may be important. This way, you'll always be updated with whatever your contacts have to say to you.
Another perk of updating to the new Skype for Windows 8 is it finally comes with a dial pad, making it easier for you to call landlines or mobile phones, as well as viewing the most recent calls you made, received or missed.
Windows 8 is definitely an OS we should be all excited about, especially with all the new apps and upgrades it Microsoft has in store for us. With the new Skype on the other hand, communicating with your loved ones all around the world has never been made faster and more convenient. With quality video, voice and audio features that Skype has to offer, you'll never have to miss another important milestone on your social, business and family life.
And yes, Supertintin will be compatible with Windows 8 so you can continue to record Skype video even after you upgrade.