If you're a couch potato, a housewife or a home buddy and you love to stay at home, Skype on your TV is the thing for you.  Enjoy conversations with you loved ones across the globe without leaving the comforts of your own living room.  Setting up Skype on your TV is just a piece of cake.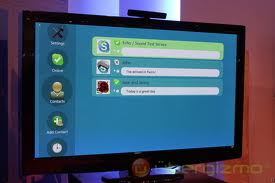 Now with Skype on your TV, you can enjoy making high quality video calls in your own living room.  You won't even need a complicated computer set-up to make your Skype calls.  Here's what you'll need:
A Skype account and an internet connection.
A Skype-ready TV
A TV webcam
Now here are three easy ways to get Skype on your TV:
If you are wondering if Skype can be downloaded to any TV, no you can't.  You need a Skype-ready TV to be able to make calls through Skype.  Panasonic, Sony, LG, Vizio and Samsung are some models that already have Skype downloaded in it.
Also, you can't use a regular webcam on your HDTV.  You will need a special TV camera that is compatible with your TV.  These cameras are readily available on selected retail outlets.  TV cameras can only be used with your TV and is not compatible with your computers.  TV cameras have built-in microphones needed in making Skype calls since televisions don't have one.
After being able to install and test all your devices and make Skype calls through your TV, you might want to try recording your calls.  SuperTintin lets you record and replay your video calls for future use.  Get entertained and communicate at the same time now that you have Skype on your TV!