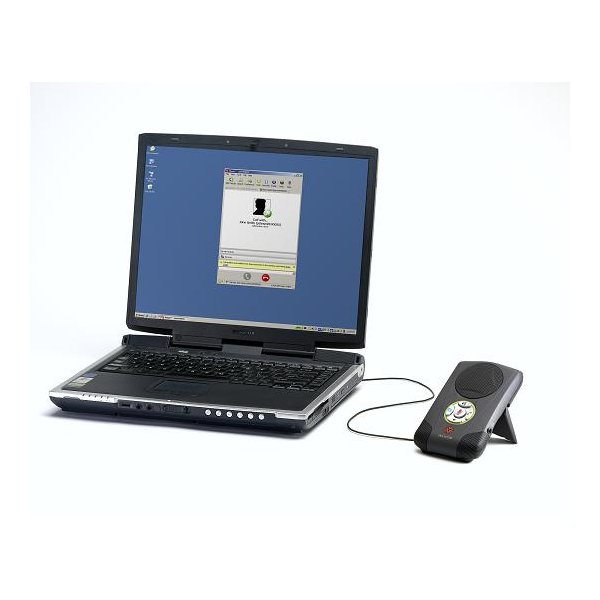 Internet has done innovations in our lives, including the possibility of seeing our loved ones from the opposite side of the globe. With Skype, communication is made easier and despite the timezone difference, you can still say hello to your friends any time you want to.
But why not make your Skype calls easier and clearer with USB speakerphones? This way, you can still go about with other activities during conversation, or to  just simply get rid of the headphones that you find annoying. This will even make it easier for you to record Skype video calls with SuperTinTin. Below are some brands of speakerphones best suited for making your Skype conference calls louder and clearer.
Jabra SPEAK410
Jabra speakerphones allow you to setup an HD mobile conference call in the comfort of your room in seconds. It's compact in size and its intuitive design interface makes it easier for you to answer and end calls, and mute or adjust the volume of your calls anytime you want to. It is also equipped with an omni-dimensional mic, which can capture voices of multiple people inside a room.
ClearOne Chat 60
The Chat 60 is one of the easiest speakerphones to use because operating one isn't exactly rocket science. It doesn't require driver or software installation, which makes it a plug-and-play USB speaker that can deliver crystal-clear audio, perfect for use in the office or for traveling.
It also features a full-duplex audio so you no longer have to install a separate microphone for your Skype calls. The Chat 60 also includes an echo cancellation feature, to eliminate acoustic echo for a much more intelligible audio calls.
Yamaha USB Microphone Speaker (PSG – 01S)
Hands-free business and personal conference calls are made possible with the Yamaha USB Speakers. It features four uni-directional microphones and two speakers, to project crystal clear sound and transmit your audio calls perfectly to the other party. Echo sounds are canceled and noises are reduced automatically, making it one of the perfect speakers for Skype calls.
Better Skype Conference Calls
There are still other brands available in the market and it is up to you to decide which one perfectly suits your needs. With USB speakerphones, you can now forget poor audio calls and start enjoying amazingly clear Skype conference calls every single time.