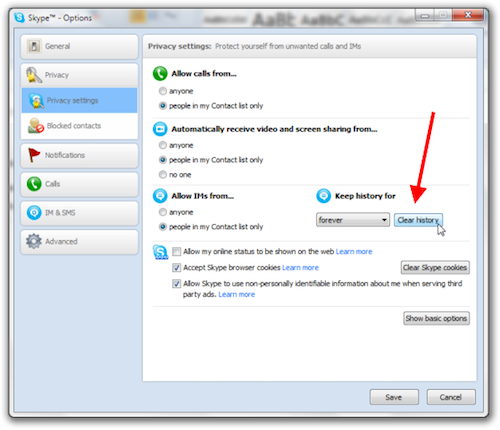 Message histories are good for recording important information but sometimes, you just want to start fresh and remove all traces of your Skype history. Skype allows you to delete single messages, entire chats or even the entire contents of Skype Home.
For removing single messages:
Usually, you want to remove a single message because you either made a typo or sent a message at once which you no longer wish for the recipient to see. To do so:
Right click on the message (using a mouse) or hold on the screen (using a touch screen)
Select Remove Message on the menu that appears
Note: You can only remove messages for a limited period from the time they're sent.
If you made a typo, you can simply press the UP arrow on the keyboard and edit the last sent message.
For clearing the entire chat history:
Open Skype.
Click Tools on the menu bar and select Options.
Under Privacy Settings, look for Keep history for.
Select Clear History.
Select Delete in the dialogue box that appears.
Note: You can select No History in the dropdown menu next to Clear History to prevent Skype from keeping any message histories.
For clearing the contents of Skype Home:
The content of Skype Home automatically updates as your friends update their mood messages and activities. There is no need to really clear this but if you do, you need some advanced technical skills. Attempt this only if you are confident of your tech skills.
Close Skype by right clicking on the Skype icon in the system tray and selecting Quit.
Hold Windows key on your keyboard and press R. This opens the Run dialog box.
Type %appdata%\skype and click OK.
Select the folder with the Skype name and open it.
Locate keyval.db file and delete or rename it.
The steps above will help you clear your message history in Skype. However, if you want to record Skype video calls there is also a way to do this. You can download a free Skype video call recorder from www.supertintin.com. It's a good way to keep the history of your calls so visit their website today and download your free Skype recorder now.