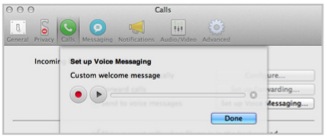 It's not all the time that you are available to answer calls from colleagues and friends. That's when voice messaging comes very handy. Skype Voice Messaging for Mac picks up the calls for you so you can listen to them the next time you are available.
This feature is available in VoIP applications as well. If you're using a Mac, you can do this for free by activating your Voice Messaging feature from your account. If you have bought an unlimited subscription or a Skype number, Voice Messaging is activated automatically.
Activation is done in three easy steps.
First, sign in to your Skype.
Click Voice messages in the Manage features section.
Lastly, click Activate my voice messages now.
Once you're done with the activation, it's time to set up your Voice Messaging preferences.
Sign in to your Skype account. Click on the Skype tab, and then select Preferences…
Click on the Calls icon from the top bar, and then click Set up Voice Messaging…
When the Set up Voice Messaging box displays, you can now record your own greeting. When you're ready, click the Record  button and speak near your computer's microphone. Once finished with the recording, click the Stop button.
To listen to your recording, click on the Playback button. If you are not happy, just click on the Record button to record a new one. Once you are satisfied with your recording, click Done.
After you click Done, the Calls preference panel is displayed. Next to Incoming Calls, tick on the Send to voice messages option.
Now that you are done with the set up, you are now ready to receive voice messages. When you are online in Skype, incoming calls will still ring and will be diverted to voice messages when not answered. If you are offline in Skype, that's the time calls will automatically directed to your voice messages.
It's so easy to activate and use, right? That's how great Skype features are. To further enhance your Skype experience, third party applications like Supertintin are also very functional. It allows you to record Skype calls and videos. With the Supertintin free Skype recorder, you can always go back to conversations with business contacts or relive memories with your loved ones.