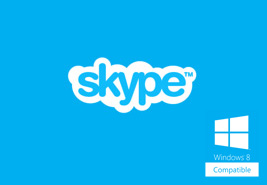 Windows 8 is the latest operating system offered by Microsoft. While everyone else is upgrading their computer and laptop units, people like you who use Windows 8 need to get the ball rolling now with Skype instant messaging!
To send an instant message:
Open Skype
Go over the Favorites or People section and select the contact you want to send an instant message. If your friend does not appear in the list, click on the blue arrow pointing right located next to People.
Once you select a contact, the conversation box will appear. Now, enter your message, then tap or press Enter.
To reply to an instant message
When someone sends you an IM, you can easily find unread messages under the Recent section.
Select the conversation to reply to your contact.
When the conversation box appears, enter your message, then tap or press Enter.
When a friend send you a message while you are currently in another conversation, audio or video call, , an orange icon with the number of unread message will pop up on the upper right corner of your screen. Just tap or click the icon to open your unread messages.
If your Skype notifications are enabled and you are using another application, you will notice an IM notification at the upper right corner of your screen. Tapping or click on it lets you answer the conversation.
To change IM settings
Start Skype
In the Skype Home Screen, you can either move your mouse to the bottom right corner of the screen or swipe the screen from the right to make the charms appear. Now, select Settings.
Once the Settings panel opens, select Options to navigate and change your IM settings. Here you can filter who can send you messages and manage your conversation history.
You can also change notification settings in the Settings panel when you select Permissions.
Remember that there's always more to all of these when you use Skype. In any of your conversations, you can always add more friends to join the fun. Spice up your conversations with the use of emoticons by choosing any of the icons from your conversation box.
Now, that you are ready to use Skype on Windows 8, you can explore further on other ways to liven up your Skype conversations. With Supertintin, your Skype audio and video calls can now be recorded. The features of Supertintin will enable you to do limitless possibilities of reaching your friends and colleagues at any time, any day, and any way you want it.