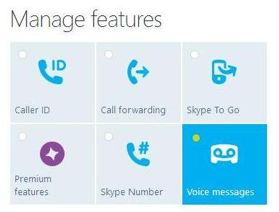 Activating Skype voice messaging is free and is a big help to make sure that you are immediately informed when someone wants to talk to you via Skype. Once you activate this feature, you can receive a voice message alert either thru a free email or a paid text message on your mobile phone.
If you want the voice message to be converted into readable text, simply sign up for SpinVox voice message alerts. Using this tool requires you to pay for a small fee.
But regardless on how you want to receive the voice message, you should first activate the free Skype Voice Messaging feature. Below are the 3 simple steps on how you can do it:
Log in to your Skype account.
Go to Manage features and click Voice messages.
Click Voice Messaging and then Activate.
Now, you are not only being able to receive voice messages, you can also leave a greeting message to your callers. For your preferred voice message settings, here are also 3 easy steps:
Click Tools > Options > Calls > Voice Messages.
Check the Receive unanswered calls as a voice message box to turn the Voice Message feature on.
Choose how long the caller should wait before he can leave a message.
Once you have selected your settings, Skype will send you an alert 10 minutes after a voice message has been recorded. But of course, you can see it right away through the Recent tab on your Skype account.
On the other hand, you can also record Skype calls using Supertintin. This Skype video call recorder is a downloadable easy-to-use tool that automatically records audio and video calls. Skype users who only want to record selected calls can also use this software by changing its settings.
Supertintin, which is also available for MSN users, is offering a Free Trial Version for 5 minutes recording of video calls. For more information, visit their official website at www.supertintin.com, or send an email to support@supertintin.com.