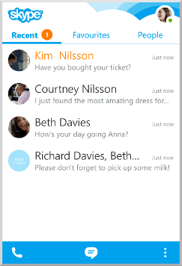 While Skype is best known for its quality call and messaging services, its continued success can be owed in part to its ability to adapt to their users' changing needs and preferences. Skype pulls this off through updates that greatly enhance user experience, and one such update is the recent changes made to the look and feel of Skype for Android.
Now while these changes may be exciting, they may take some getting used to.  But worry not, because the following insights will serve as your guide to this all-new Skype for Android experience.
Knowing the Main Screen 
The moment you open Skype, you'll easily find the tabs that are at the center of the action, namely: the People list, Recent, and Favorites. All three tabs are part of the main screen, and should you swipe between or tap any of the tabs, you can return to the main screen by tapping the icon at the top right corner.
Adding Contacts
Adding a contact is easy from the main screen, regardless of what tab you're currently in (e.g. People, Favorites, or Recent tab). Here's how the process goes:
Access the menu icon and tap "Add People"
Search for the contact you want to add by using their phone number, email address, or Skype name
Select the contact's name from the results list and tap "Add to Contacts"
If you like, you can introduce yourself by typing a short message
Make a call or send a message to your newly added Skype friend
Making Calls and Sending Messages
It is super simple to call or message a contact in Skype for Android 4.0. From the main screen, tap the call or message icon. Select the friend you want to get in touch with from your People list, Favorite, or Recent tabs. Moreover, you'll be glad to know that despite the new look, the messaging emoticons are still the same.
Now if you want to keep video copies of important conversations with friends, colleagues, or business associates, you should consider downloading the Skype video recorder from Supertintin.