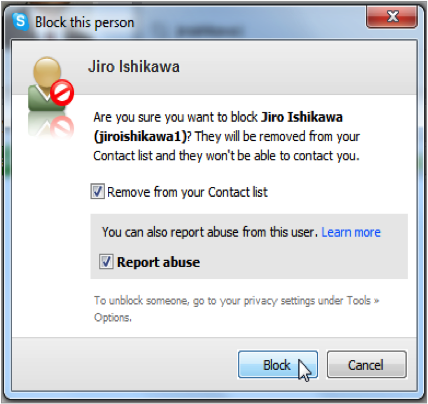 Like any other channel of communication, your Skype account can also become the target of spammers, suspicious callers, and other nuisance contacts. Fortunately, you can block Skype contacts you don't like, as well as stopping unwanted calls, by following these tips we've pooled together.
Ignore the Call
If an unknown user attempts to contact your Skype, ignoring the call would be the best thing to do. However, if you've already answered it (sometimes we tend to do that when a call catches us off guard), don't follow any of the caller's instructions. See, most unsolicited calls are from fraudsters who intend to trick you into giving up sensitive personal information.
Change Your Settings
You can avoid unwanted instant messages and calls by changing your Skype's privacy settings. Here are the steps to follow:
Click on Tools > Options > Privacy Settings
In the "Allow calls from" section, select the option "people in my Contact list only"
In the "Allow IMs from" section, select the option "people in my Contact list only.
Alternatively, you can follow these steps if it's you only wish to block unwanted calls:
Click on "Tools" > "Options" > "Calls" tab.
Click on the radio button for "Only allow people in my Contact list to call me", then click Save.
Block Skype Contacts
You have the option to block Skype contacts that are a nuisance or are suspicious. Here's how to do that:
1. The contact's name will appear on your Recent Tab, which is just beside the tab for your Contact List. Right-click the unwanted contact's name then select the "Block This Person" option.
2. It's your discretion to check the box for "Report Abuse" if you strongly suspect the said contact to be a spammer or fraudster.
Now if there are unwanted IMs and calls, there will also be those that you'd want to receive – perhaps even record if they're that important. Well, you can download and install Supertintin's Skype video recorder to capture those important conversations.