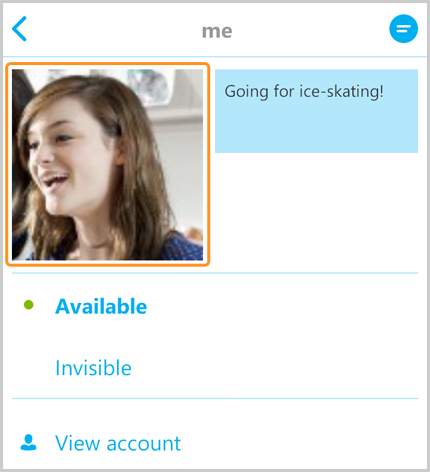 Changing your Skype profile picture and status lets you personalize your Skype experience. It's easy. Let's get started!
Change your status!
Posting a status updates your friends on what's going on with you or if you're available to talk. Statuses are an easy way to communicate to your friends to let them know if they can chat or call with you right away.  There are two options available on the list, available and invisible. The status available will let you appear as online in your contacts list, while invisible status is like saying "I'm unavailable right now". Ready to change your status? Let me guide you in changing your status by these simple steps:
Login your Skype account
Select your profile; it is located at the top right corner of your Skype window.
Choose either Available or Invisible.
Show them your face!
Having a profile picture in Skype will let others see what you really look like to update your friends especially if they haven't seen you for a while. Show the world of Skype how handsome/pretty you are by following these steps:
After opening your Skype account, tap or click your profile icon.
Select your profile picture.
Enter or search the folder where your picture is located. The photo you selected will have a check on it.
Click the button Open at the bottom right corner of your screen
Congratulations! You've changed your profile picture!
Make your Skype experience memorable!
Ever wonder if you can play again your cherished and adorable moments in Skype? Do you want to know how to record Skype video calls? Well here it is, a Skype recorder known as Supertintin! With this software, you can easily record your family calls, online interviews even podcasts! It's an easy way to record different kinds of streams on your Skype call experience. You can check it out in http://www.supertintin.com/