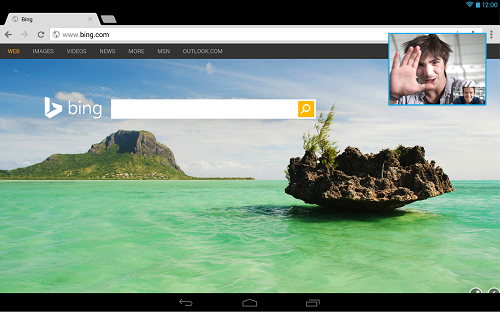 Skype recently released an update for the Skype for Android app that features for the first time on Android tablets the ability to multi-task. For folks too busy to do one thing at a time, this is a good option to have when on a Skype video or audio call.
The Picture-in-Picture (PiP) mode is resident when you are logged in to Skype, but when installing the update, you have to give permission for Skype to "draw on top of other apps," hence the use of the term "float." It is somewhat similar to Window 8's Snap View in looks and function, but "with an Android twist."
Using PiP Skype for your Android tablet is easy:
Log in to Skype.
 Make a video or audio call.
Press the back button on your device once the call is active.
The Skype window will draw to the right corner but always on top, letting you operate other apps without losing your call.
To draw the thumbnail elsewhere on the screen, place a finger on the picture and draw it to the desired spot. Release.
To restore the Skype window, tap on the thumbnail.
The significance of the PiP feature is that it allows the user to browse the Internet, work on a document, and/or even play a game while keeping the call active and communication. You can even continue to record Skype videos while in PiP.
Note that the PiP feature only works for tablets and it does not work on all Android tablets.  Developers say they are working on getting the feature into phones as well as a wider range of Android-based brands. So far, it works on a few, and the update includes bug fixes for the latest Samsung tablets, LG Nexus 5, and Tesco Hudl. If you are an existing Skype user and you have a compatible gadget, the update is available on Google Play for free. Download it now and have fun!