Skype is the most popular online phone service provider worldwide. It offers services such as instant messaging, voice calls, conferences, and of course, video chat. According to statisticbrain.com, a huge 40% chunk of Skype users log in to Skype for its video chat feature. Most users, especially with loved ones from afar, even record these video conversations. Now if you're one of them, I say read on!
Download a trusty recorder.
Unfortunately, Skype does not have its own video chat recorder, but there are a handful of recording tools you can download! But this gets quite tricky since not all available recorders on the internet are safe for your computers. In my case, I use SuperTinTin, since it's a decent site, and the testimonials are convincing.
It pays to pay for your recorder.
There are a lot of free video chat recorders available on the internet, but I believe the paid recorders deserve more of your attention. Most, if not all, of the free recorders have adware or spyware, or sometimes, even worse: both. Moreover, paid recorders produce videos with better quality. If you're worried about paying for the wrong recorder, most of them have trial versions.
Connection disconnection.
A good internet connection would always be your video chat recorder's best friend. No matter how high-quality the videos of your recorder produces, you would still end up looking all robotic if your internet connection's all sucky. You'd always need a good internet connection and a good recorder. They're just inseparable like that!
Configurations please!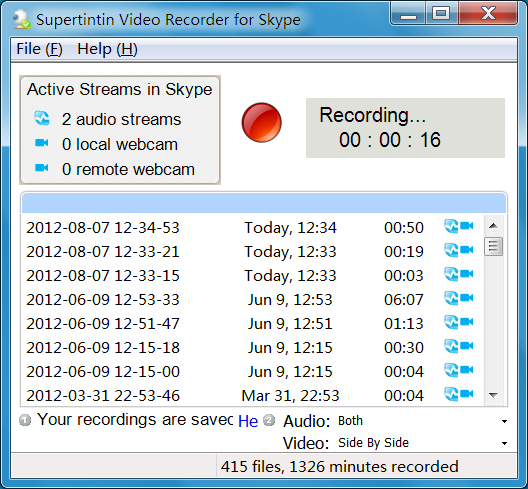 You may want to adjust the settings of your recorder before you head on to recording your every conversation. The "settings" options are usually just on the menu bar. As for the recorder i used, i just clicked the "Help" button on the menu bar and dragged down to "options." This may get a little tricky depending on how many variations is available on your recorder. In my case, SuperTinTin offers quite a lot, but it's still easy to adjust them anyway.
Trials. Trials. Trials.
It is always better to try any new product before using it for the real deal. Upon trial, learn its controls. You wouldn't really want the person on the other line frown as you panic about which button to click. More so, if you got your embarrassing mistake recorded! To stay safe on this matter, I stick to recorders with simple controls.
With all that said, I believe you're ready for your first successful Skype video recording. Now, go forth and make good memories!