With many Skype recorders available for download, we often get confused with which is better to use.  How can one certain Skype recorder be any better than the others, huh?
So on this note, let's try and see which of the two Skype recorders– Pamela and SuperTintin, is better in a one-to-one showdown that shall prove the ultimate Skype recorder winner.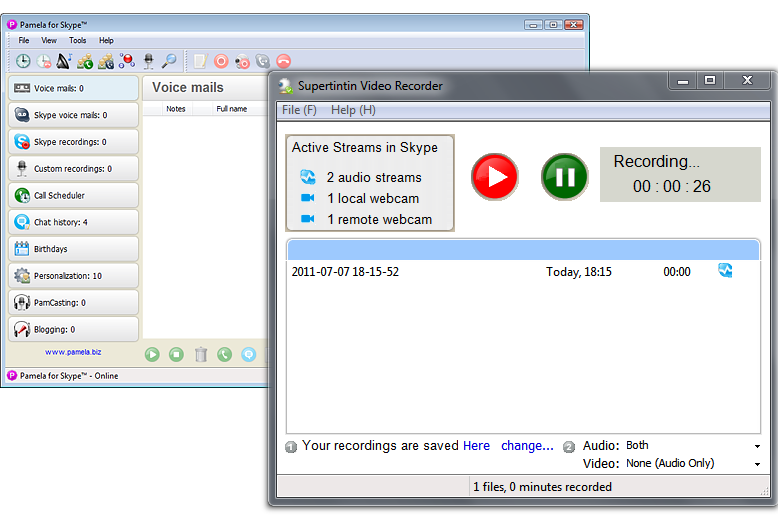 The Similarities
Other than their odd names, SuperTintin and Pamela both offer their services depending on whether you're going to buy it or get it for free. Both of these recorders have unlimited audio and video recording time for their paid versions. Also, both use the MP3 format for audio and WMV for videos.
The Differences
The battle gets tough when it comes to both recorders' features and quality. Pamela offers additional features including mood/status messages, birthday notifications, call schedules, contact "personalization", call notes, call transfers, auto calls, chat replies, and audio play during calls.
SuperTintin doesn't have all the mentioned Pamela features. It's basically a Skype audio and video recording device that lets you do recordings in different ways: audio only, local video only, remote video only, both videos, or save both local and remote videos in two separate files. It also saves your videos in MP4 and AVI formats for better quality. You can also configure the video's size and frame rate.
The 7.6 MB Professional version of the Pamela Skype recorder costs almost $32.00 (24.95€), while SuperTintin's 3.6 MB full version costs $29.95.
Issues
Crashes, poor quality, and bad support are the main complaints for Pamela. For some people, SuperTintin is pricey compared to other similar Skype recorders.
Who won?
Although Pamela offers many features, its problems made it earn a low user rating unlike SuperTintin. SuperTintin on the other hand, got high ratings due to its simplicity and quality recordings, despite its cost. SuperTintin wins and proves that quality is better than quantity.