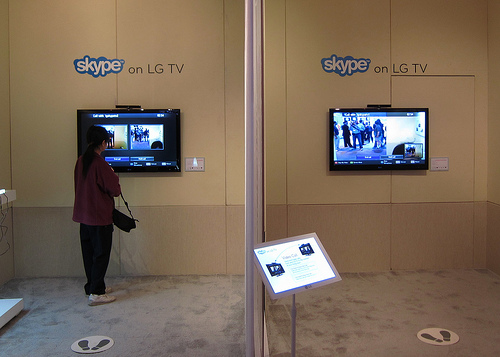 TV's have come a long way from their counterparts back in the day. Now, you can watch your favorite shows and use it to access the web. Imagine being able to talk to and see your loved ones far away, while you catch up on events. All from the comfort of your own couch.
Here's a how to guide to connect your Skype TV:
There are three major options to choose from in using Skype on your TV.
Buy a New TV. Samsung, Panasonic and Sony make Skype ready televisions. Just plug a webcam and your good to go.
Computers. Hook a small computer onto your TV, and place the webcam where you want it.
TelyHD. A WiFi android device that when hooked up to a TV will boot a Skype Android app.
And while you are enjoying your conversation with your loved ones, why not record the moment with a Skype video recorder?
Supertintin allows you to record video calls by capturing original media data while making sure there is no data loss. Because it is not a screen-capture recorder, video quality is not affected at all if you open, close, resize messenger windows while recording.
Here's how to use Supertintin:
Open Skype and Supertintin
Start a video call
Record
Save the conversation
Play the recorded conversation
You even have different options in recording, namely: Side by side, picture-in-picture (default), remote only and local only mode. You can also record local and remote video as two separate files.
It easily lets you save your conversations on your computer's hard drive or a flash drive for convenience.
Supertintin is perfect for online lessons, business meetings done through Skype and for families abroad. So go ahead, and download your very own Skype video call recorder.