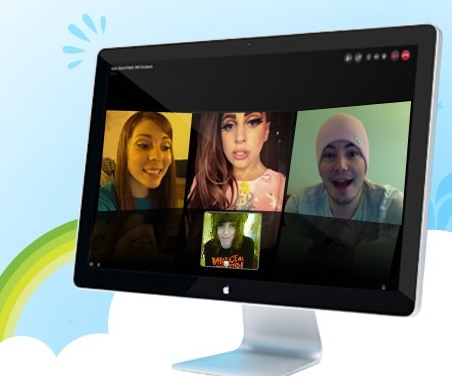 All you Little Monsters, wanna win a video call with the Mother Monster herself?
Skype is giving ONE lucky fan a face-to-face call with Lady Gaga through its group video call with Lady Gaga Sweepstakes. And it only takes 4 simple steps to join.
Step 1:
Visit the SkypeBall website and press the big green Enter button.
Step 2:
On the map provided, choose the continent where you reside in. The promo is open only to residents of the U.S., U.K., Ireland and Canada (excluding Quebec).
Oh, and you have to be 18 years old and older to join.
Step 3:
Enter your Skype username. If you don't have a Skype account, you will be asked to make one. Which is a good thing. Skype offers free video calling! Thank heavens for Gaga she brought you here.
Step 4:
Fill in the necessary details in your entry form and you're good to go. That's it. No purchases necessary.
Now you wait. The promo is until Dec 16, 2012.  Check this site from time to time for winner announcements.
You can enter at most 2 entries in the sweepstakes.
Step 5:
If you win this once in a lifetime alone time with Lady Gaga, RECORD IT! People will just think you're a crazed fan imagining things if you don't.
The best way to record Skype video calls is through SuperTinTin. Supertintin lets you record your one-time moment with Lady Gaga, and more everyday  conversations like online interviews, conferences, lessons, podcasts, or family VoIP calls.
It can record both audio and video streams. It also captures the original media so you are sure there is no data loss. With all these features, it still remains user friendly. Supertintin videos are easy to record and playback. And you can save your videos in your hard drive or a portable USB.