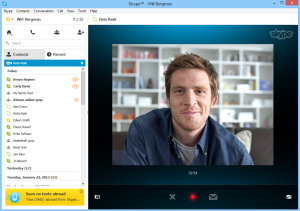 For a number of years, Skype has been a powerful tool in providing a close communication to families who live overseas.  With the increasing popularity of Skype from across the globe, people from behind this program are doing their very best in order to provide their users with the fastest and most advanced software to maximize their Skype experience.
Skype 6.5 Beta
People at Skype are very much aware on the importance of communication and the role that Skype takes on this very crucial stage. This is the very reason for the occurrence of Skype 6.5 Beta. In order to yield better results and superior communication, the people behind Skype are under now on its way to releasing its newest version in order to fix bugs and accommodate a new feature.
With the release of this update, Skype shall provide its users with a much more interesting way of communicating with their loved ones abroad as this program would allow you to send and receive a video message anytime.
More often than not, Skype has been the number one choice for communication due to their video call feature. Being able to see your loved one on camera as you speak, this makes a great difference compared to the traditional voice calls that we were used to. Even better, the video message feature that the Skype 6.5 adds, gives you a better chance of showing your loved ones how much you care even if they are not online. This shall truly yield a warm smile as they open their account and watch the video message.
Supertintin
Supertintin is a powerful tool which can be used to record videos and is a perfect match to use with Skype. With Supertintin, you shall be able to record that video message in no time. It is effective and very easy to use. For more information about Supertintin, please visit http://www.supertintin.com/.
Having Skype and Supertintin, you are sure to be provided with the best and most advanced communication tool out there. So, make the most out of your Skype experience, download the Skype 6.5 Beta now and send your loved ones a video message today.