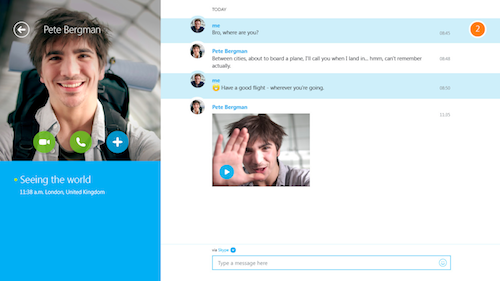 No matter how convenient text messaging has become, video messaging is a great alternative  to get your point across better. This is true specially when contacting people like mom, dad or grandma, they'll certainly be happier and prefer to see a talking you!
On the other hand, if you're a professional, particularly with an online business set up, then video messaging is definitely a form of communication you cannot do without.
Video messaging takes your usual form of communication to a higher and more personalized level.
You may not be new to Skype. Perhaps you already use Skype video call or chat. Recently, the new Skype on Windows desktop for Windows 7 (or above) introduced a new handy feature: Skype Video Messaging. Now you can record a video of yourself and send it to your Skype contacts just like a regular message, even when they are offline or unavailable. Your video message can be accessed the next time they come online.
Now there is no need for you to wait for a contact to come online to be able to send a video of yourself.
To use this new Skype feature, both you and your contacts should download the latest beta version of Skype 6.5 for Windows desktop (latest Flash plugin or Internet Explorer required). Click the icon which says SkypeSetupFull to start installing. Follow the simple steps, check that your webcam and mic are functioning, to finish installation.
To send a video message:
Right-click on a user who is offline on the right side bar of Skype
Click on "Send Video Message"
Click on the record button to start recording. Click on it again to stop. Tip: To preview your video message, hover the mouse pointer to your image and click the play button
Click on the envelope icon to send your video message. Click on X icon to cancel or re-record.
Ensure that your message is delivered by letting the progress bar load completely.
There you have it! With video messaging, you now have more options to communicate. You can make your Skype experience more personal than ever. Love Skype? SuperTintin is the best Skype video call recorder currently in the market that's very easy to use.  Download it now to save all streams of your Skype calls for free.