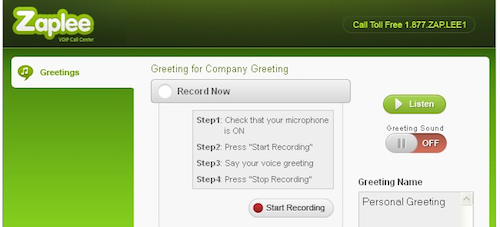 A lot of people have come to love Skype for its voice and video calls function. Another good thing about Skype is it offers various applications that users like you can choose from depending on your needs. Zaplee is one of these applications.
One of the trends nowadays is virtual offices. The Zaplee application is a company phone system based in a cloud and can be very useful for this type of business that has various teams from different parts of the world. Zaplee works like the usual PBX phone system with local or extension numbers. It can direct call to your Skype, mobile phone, or any IP desktop.
Zaplee doesn't need to be downloaded or installed, as it is completely hosted. Here's how to set-up Zaplee on your device.
Setting Up Zaplee and Skype for Business
Go to www. zaplee.com to set-up your account by filling up the registration form. Here, you can choose on how callers can call in through the Zaplee phone system. For US and Canada users, a toll-free 800 number can be also provided and varies depending on the area. Once you're done with setting up your account, the username and password will be sent to the email address you provided upon registration.
Company Preferences
Now you can set-up your company details in the Company Setup tab. Here you can add up different departments or groups. You can also choose to route the calls to an individual employee and set-up the time your company can receive calls.
Employee Names
In the employee tab, you can add up the names of individuals who can receive calls. You also have the option to receive calls via Skype id and assign an email address where all voice mails will be sent as .wav or .mp3 files.
Departments
In this tab, you can add the different groups or departments of your company. This is where the local or extension numbers are assigned and where you can assign to each department the employee names that were created.
Greetings
This is fully customizable. You can also select multiple greetings for different times of the day – Welcome, waiting, after office hours, etc. You have the option to upload a recorded file of the greeting or use the computer's voice to record your greeting. A text box is found in this tab where you can type the greeting you prefer.
Zaplee is so easy to use and very affordable that can fit the budget of small and medium sized companies. It can only cost you $10/employee for all incoming calls to Skype, SIP, Zaplee web phone or gTalk. What's great is that they do not charge you per extension number, so you can also opt to let your employees to receive calls on their mobile phones.
Another application you can use with Skype is Supertintin. This is an application that lets you record Skype voice calls and Skype video calls without the hassle. Just like Zaplee, it's easy to use and makes your Skype experience fun and functional. For more information about this app, visit www.supertintin.com.