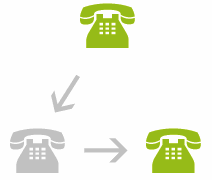 Missed your friend's call just when you've signed out of Skype, yet again? Waiting for an important call at work, but you have to leave your desk? Then use Skype's call forwarding features and have your calls forwarded to any number. Call forwarding is a useful and inexpensive tool to make sure you receive all your calls anytime, anywhere.
How to Forward Skype Calls
It only takes several clicks to forward your calls. Follow the steps below.
1. Sign in to Skype
2. For Windows OS users:
a. Go to the "Tools" bar.
b. Click "Calls" under "Options."
c. Select "Call Forwarding."
d. Go to "Call forwarding options" and check "Forward my calls to"
3. For Mac OS users:
a. Go to "Preferences."
b. Click "Incoming Calls" under "Calls."
c. Click "Forward calls," then choose "Set up forwarding"
4. For Linux users:
a. Go to the "Options" bar.
b. select "Call Forwarding."
5. A window will appear so you can:
a. Enter the Skype name of your contact, or a mobile or landline number your incoming calls will be forwarded to.
b. Enter how many seconds or rings before Skype forwards your incoming calls.
6. Click Save or Done to save your settings.
Skype's call forwarding feature works even when you're offline. It is also free for all Skype-to-Skype calls, but needs a subscription or Skype credit if you're using a mobile or a landline number.
Once you've called your loved ones back, make sure you use a Skype recorder like SuperTinTin to make your calls and conversations last a lifetime. Don't worry about missing any calls. Set up call forwarding on Skype today.