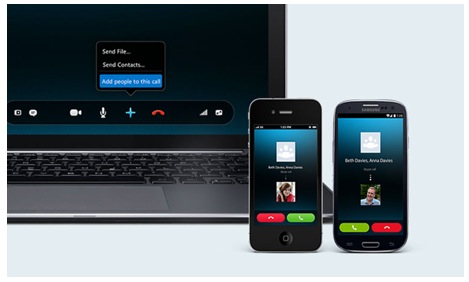 Skype is considered as a great communication tool with affordable rates. This is especially useful for Skype group calls and video calls. Also, Skype allows its users to communicate with their friends and colleagues through their landline or mobile phones.
So, read along as we discuss the three ways on how to include phone contacts in a group call with Skype for Windows.
How to add a phone number before making a call
For your convenience, it is advisable to add the participant's phone number before placing a call. Please bear in mind that by placing a call through a landline or mobile phone would require you to have a Skype subscription or a little Skype credits.
Log in to Skype
Select the conversation where you wish to add the contact to. You can also create a new conversation by clicking the "Contacts" menu then select "Create new group".
Click on the conversation menu then "add people". Enter the phone number of the participant and click "Select".
Finally, click "add" and you're on your way to host a group call.
Adding a phone number while the group call is ongoing
If you are in the middle of a conversation and decided to add another participant in the group, this can be done with just a few easy steps. Skype credit or subscription is also required.
Click on the "Add, send and share" button, then "Add people to this call".
Enter the phone number you wish to call. Please don't forget to include the international dialing code. Select "Add to call".
If you have this number saved on your contact list, drag and drop from your contact list into the active group call session.
Allowing others to dial from a landline or mobile phone
In order to do this, you'll have to set up a Skype number. If you have one, you can give this number to someone who wishes to dial in.
To include the incoming call in an active group call session, just click on the "Add to group call" button.
To get more helpful tips and maximize your Skype experience, join the Skype community.
PS: For a more advanced Skype experience, check out Supertintin. It's a great app which records Skype audio and video calls.