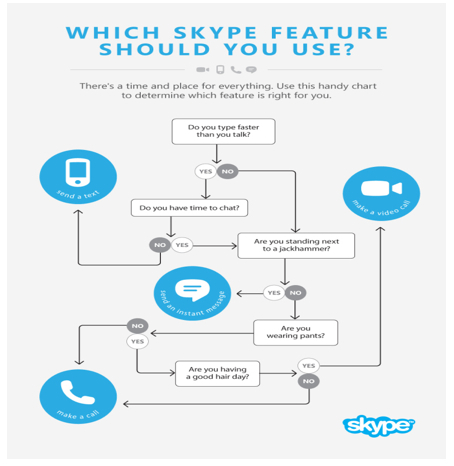 Skype has been the premier choice for communication for the past few years as it has proven to be one of the easiest and cost-effective means of interacting with a lot of people from different parts of the world. However, with the numerous features that Skype has to offer, one has to think which of these features are best suited for them.  Well, it actually depends on the environment and situation you're in.
Listed below are the most common Skype features. Read on and decide which one you should use.
Call
If you are in quiet environment and wishes to talk with your co-workers and clients in a more professional manner, this is for you. Also, you can host a group call and include all your co-workers in this conversation. Worried that some of your teammates are not available on Skype? You can always call them through their mobile phones for a very low cost.
Video Call
If you wish to have a more intimate conversation with your loved ones, this would be a good choice for you. You not only get the privilege of speaking with them, you also see them in real time.
Messaging
For a relaxed and casual conversation, instant messaging can be a great option. This is also applicable, if you are in a room full of screaming children and can't handle calls at the moment.
If you are too busy but wishes to leave a more personal message to your loved one, send them a video message. They'll surely appreciate the gesture.
So, which Skype feature is best suited for you? Leave us a comment. We'd love to hear from you.
PS: To get the most out of your Skype experience, try Supertintin. It's a third party app which can record Skype audio and video calls.