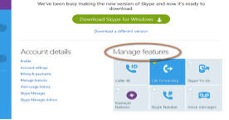 Making the most out of using Skype either for personal or business depends on your knowledge of its basic features and how to use it. If you are a beginner at using this software, then you can learn from this article as it will tackle how to use Skype's many and practical features.
1. Calling – Skype is well-loved because of its seamless video call features. This feature has become the most famous feature of Skype and made it the best video calling software today. With the latest version of Skype, you can enjoy one-on-one video call or group video call. You can also use other devices when making video call, just be sure that Skype mobile is installed in your device. Here's a tip, dong some business transactions, it is recommended that you video call your client so that he or she can talk to you face to face, this adds confidence and credibility to your part.
Voice calling is also one of the features of Skype that many people are using today. It is because Skype voice calls are clearer and more stable compared to other softwares that has this features.
2. Messaging – Chatting or instant messaging is one of the most popular ways to communicate today. Skype took it to the next level by launching its video messaging features. You can now send video message to your loved ones using Skype. Of course, there are also the basic text and voice messaging features.
3. Sharing – Different files can be shared through Skype. This made doing international business through Skype possible. You can documents, videos, audio recordings, and any kind of file you can think of. You can also do Screen Sharing where you can share your computer screen to other people. This is most useful when troubleshooting your computer or accessing your files even if you are not in front of your desktop computer.
There are also some other features that Skype will launch in the near future and you must be in the lookout for this additional features. It is also wise to record Skype video calls especially if it is a business transaction. This will enable you to playback the conversation you had with your clients. The best Skype recorder for your video calls is Supertintin Recorder. It records high quality audio and video calls and comes with a simple user interface that is easy to understand.