Yes, Skype is here to make calls through the internet. But then, what makes it so different from your telephone, which can take and make calls as well as Skype can? Well, here are the main Skype features that make it uniquely incomparable to your landline telephone.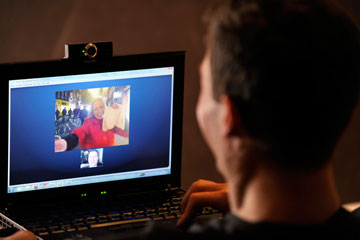 1. Skype to Skype, to landline, and to mobile phone calls. You may know this already, but don't forget Skype calls are cheap and most of the time free! You can always make free Skype to Skype calls to any country and call landlines and mobiles for as low as $1.09 for a 60 minute call per month depending on your location.
2. Instant and voice messaging. Worrying about missed calls? Don't, because Skype's free instant messaging lets you drop your pens and papers. Subscribe and you can use voice mails in leaving messages for offline contacts.
3. Screen sharing. Don't deny this, but we all know landlines can't do this one. Especially when you're asking or giving out instructions, the share screen option lets the other line view your desktop and vice-versa. No more time wasted on asking "How's it again?"
4. Conference calls. Skype users can easily make free group audio calls that can include up to 25 Skype users. While for video conferences, it can also make up to 2 free video calls, and 10 if you're subscribed.
5. Video calls. This is the main reason you'll love using Skype. You can talk with other people face-to-face! It's absolutely free and you're also free to make faces and actions using your webcam. Say bye to phone induced neck pains!
Skype ties people closely with video calls and lessens misunderstandings through its messaging and sharing features. And again, unlike the telephone, you can use most of these features for free!