One key measure of an online jewelry maker's success is its degree of customer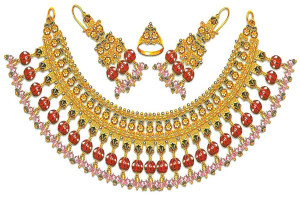 engagement.  With a few creative twists of metal wires coupled with careful choosing of brilliant gems and using Skype to talk to customers, you can create special custom-made necklaces and bracelets that would've compelled Cleopatra to place an online order.
SET UP YOUR SHOP. There are a lot of online stores that encourage jewelry makers to set up shop and start selling their creations. It does not take much to showcase your jewelry and earn cash from your handiwork:
JEWELRY.  Gather all the bracelets and necklaces that you have fashioned in all shapes and colors and take stock. Give each piece a name or code, a brief description and a price according to the materials and time you spent making them.
PHOTOGRAPHS. Showcase each piece in professional looking photos. If you can't afford a professional photographer, you can search online for helpful tips on taking well-executed pictures using an SLR or a digital camera. You can even ask a friend to model each piece so customers can have an idea as to its dimension.
WEBSITE. Maintain your own website to serve as your online store or sign up with many websites that allow you to sell on their sites like Etsy. They charge minimum fees and only keep a small fraction of your profit.
USE SKYPE. Unfortunately, you don't have a monopoly of talent nor are the simple steps listed above secret. Your beautifully crafted jewelries may give you a following and earn you a tidy sum but you can exponentially increase your market with the use of Skype.
Online shoppers browse through thousands of pages of jewelry photos and only stop at sites that catch their attention. Your potential buyers will definitely stay if they can to talk to you about a ring that they fancy. Receiving calls through Skype will give you a better chance of closing a sale.
But you can't be there all the time to take a call. A practical alternative is to make a recording of your jewelry items' descriptions or of your FAQs, using video call recorder apps like SuperTinTin, that potential customers can download and watch. This will give a more intimate feel of your items and your shop and create satisfied and loyal customers.
BE DIFFERENT. The Internet has allowed thousands of handcrafted jewelry businesses to market their products all over the globe. And there is no shortage of channels from which to sell, like online stores Etsy, Ten Thousand Villages or iCraft. You may get noticed because of your talent but you will get satisfied and loyal customers because you took the time to talk to them.