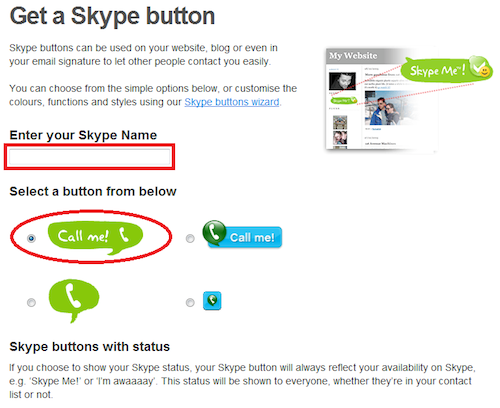 Skype buttons and URI links are tools that can help you make your Skype experience enjoyable and easier. But before you can use these tools properly, you should first know how to use them.
Skype Button
A Skype button is a logo of Skype that is inserted in your website to make it easier for other people to contact you through Skype. Studies show that visitors are more likely to buy a product or service when their queries are answered by the best people to answer it. That is the main reason why many businesses have put up their own website and place Skype button on it to make them more accessible to their customers.
How to get a Skype Button
It's very easy to get a Skype button, just follow these steps:
Navigate to the Skype buttons page
Enter all the necessary information and choose your preferred settings to customize your button in the "Let's get started" page. This will generate a unique code.
Copy the unique code and paste it in your website application or code and then you're done.
Skype URIs
Skype URI links are tools that make developers to create a more creative web, desktop, and mobile application. This application is use to start Skype calls and chat that makes communication easier and fun.
A user must have an active Skype account and a Skype client installed in his or her device. Skype URI currently supports video calls, audio calls, IMs and Skype client focus switching.
How does it work?
Skype URI goes hand in hand with Skype buttons. The HTML code in Skype buttons has Skype URI inside it. When you click the button with Skype URI link in it, it can do these things:
It starts Skype application and prompts user to enter their username and password.
Opens a dialog box to place a Skype call.
Make Skype calls.
Brings Skype client to focus and starts it if necessary.
It is a great idea to store all your audio and video conversation, and you can do this by recording your calls in Skype. To know how to record Skype video calls using the most advance Skype Recorder, please visit this website: supertintin.com.