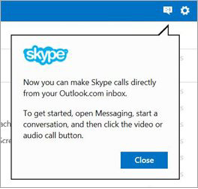 Microsoft Outlook is a personal information manager and popularly known for its email function. It also lets you use tools such as calendar, task and contact manager, notes or journal, and web browsing. Just recently, Microsoft launched the preview version of Skype in Outlook – now you've got two great communication tools in one place!
Excited to try out Skype in Outlook?
Firstly, you have to download a browser plug-in. This is available for most recent versions of Internet Explorer, Firefox, and Chrome, and very much essential for the voice and video call features of Skype. Don't worry, this is a one-time download.
Once the plug-in is downloaded, you're now ready to connect Skype to Outlook.com with the use of a Microsoft account. Well, if you're an existing Skype user, you just have to link Skype and your Microsoft account, allowing you to add all your Skype contact to Outlook.com.
Easy, right? You'll know Skype is ready when you see a banner alert at the upper right corner.
This convergence allows you to make voice and video calls and send instant messages from Outlook.com. How to make a call? While reading an email from a friend, you just have to hover the mouse over the contact's picture and click on the Skype call button.
This preview version of Skype is currently available to users in U.K. and soon to U.S. and Germany in the coming weeks, and next in line is its availability worldwide.
Another good thing about Skype is you can record your voice and video calls by using an application called Supertintin. This recording tool gives you a lot of advantages you never thought of before. You've got no time for second thoughts. Download it now and see for yourself.