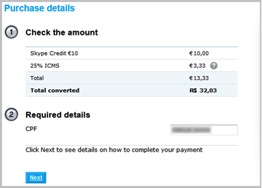 You can enjoy Skype more than using it's free features like video calls and instant messages by purchasing Skype credits to make low-cost international calls or have your own Skype number. But how do you pay for Skype credits?
Purchasing Skype products online is fast, easy and safe just by doing the following ways:
Let your bank send your payment to Skype just by knowing the available bank information and paying it in person, by phone or online.
After buying a product in Skype, choose the credit or debit card you'd like to pay with and enter your card details and security information.
Pay for Skype credits online without using a credit card just by selecting Pay by Cash and follow the indicated instructions.
In Pay by Mobile, you only need to have a mobile phone number and charges will be added right into your mobile phone bill.
Other than Skype, you can pay for Skype credits and products through their partners' website or physical locations.
Make purchases without the need to share card information for every transaction by registering your card in Paypal.
Paysafecards are prepaid cards that let you buy Skype credits online until it's all used up.
Purchase prepaid cards from selected retailers and redeem the card in your Skype account using the card's PIN code.
These vouchers can be bought in various retail outlets and can be used as gifts for your family and friends.
More other payment methods like Boleto, Cashu, Ukash, Skrill, webmoney, and Yandex money are available depending on your location. Finally, if you have your Skype credits, don't forget to download a Skype video recorder to fully enjoy that Skype experience.