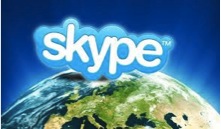 Do you love to travel? Did you know that Skype is the frequent flyer's new best friend?
The backpacker's life is a life of adventure, walks, strolls and quirks. But being friends or family with the traveler can be somehow a pain. You could never know where they are, or why you can't contact them. But, Skype has provided a solution to this. Not only has Skype revolutionized the way people communicate in local and global communities, but it also offers a great solution for the backpacker to stay connected to his loved ones anytime, anywhere. How do you go backpacking using Skype then?
Skype WiFi
Yes, you read that right: Skype WiFi. Ever got pissed at trying to locate local WiFi hotspots, only to find that you either have to sign up and pay up? If you're itching to call your loved ones about your latest adventure, you can use your Skype Credit to access Skype WiFi, a novel way of connecting to a million hotspots worldwide, without the hassles of sign ups and credit lines. You can even install it on your mobile device or android gadget as an app.
Call forwarding
Connect your mobile or another phone to your Skype account so you can forward all your Skype calls. This way, your friends and loved ones could still call you even if you're not signed in to Skype.
Mood messaging
Who'd ever thought that Skype's mood message could be of so much help? If you're going offline and off to a secluded area, simply place it on your mood message so people would know where you are and why they can't contact you.
Skype truly has become a great tool of communication for backpackers all over the world. Now, aside from staying connected while traveling, you can even record and save your Skype calls and video chats using an extension software. SuperTinTin is an amazing software that easily records these calls and video chats so you can remember and cherish those adventures and memories. Visit SuperTinTin now and experience reliving the moments that matter.