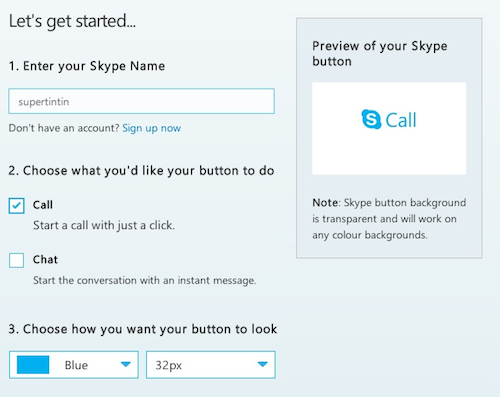 Using Skype in your business website is a very good way for your customer to contact you about your products and services that you are promoting in your site. If you can satisfy the queries and needs of your website visitors, then they will be transformed into a buying customer and hopefully a returning customer in the future.
But there are things that you should know on how to add a Skype button in your website. Here are some of the common questions and answers about using Skype buttons.
What exactly are Skype buttons?
No, it is not those that are in your shirts or dress. It is like a small logo of Skype in your website that will enable visitors to contact your customer service representatives. They can chat or call you through Skype buttons.
Will it help my business?
Yes, definitely. By providing channels of communication for your visitors, then they will become potential buyers and clients. When their queries are answered properly and satisfactorily, then they will avail of your products and services. Remember that a satisfied customer will always return to you.
How do I put Skype buttons on my website?
It's very easy to setup, just enter your Skype username in the Skype button page and choose whether you want your customers to reach you thru chat, IM or both. Then choose the size and color of your buttons and then you will receive a HTML code that can be copied and pasted to your website.
What are the chances that my customer also has Skype?
There are more than 300 million people today all over the world that uses Skype. If there are customers that have no Skype, chances are they are living inside a rock or something.
I am not always online, what happens when somebody tries to contact me through Skype buttons?
You have the option of forwarding calls to your mobile phone or through a voicemail. In this way you will never miss a call.
It is very important to record Skype video calls for security and quality control. Supertintin is the best Skype recorder in the internet today. You can visit their website supertintin.com for more details on how to use and install it.