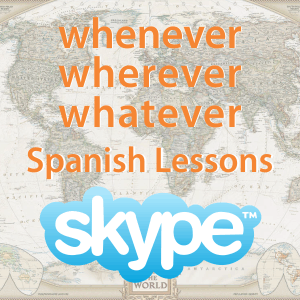 No more "Mi no habla español" when travelling to a Spanish-speaking country and a someone tries to have a friendly conversation with you.
You can now learn Spanish in the comforts of your own home, office or anywhere you fancy.  Education has been reinvented through the use of Skype.
Learning a new language in a traditional classroom set up can be both a difficult and boring task. The teacher handles a number of students minimizing the opportunity for every individual to actually learn. Your hottie seatmate might get more attention than you.
With Skype, one on one Spanish tutorial sessions are now possible.  You can choose your preferred screen set up on Skype.  You can even record your tutorials, (of course with the permission of your teacher) so that you can view it again just like playing a DVD.
Using a Skype Video Call Recorder like SuperTinTin might be the best option for you.  It could record all audio and video streams in all kinds of Skype calls and voicemails.
The procedures of recording are quite simple. Two Steps. First, start a Skype conversation.  Next, click the red record button in SuperTinTin to start recording.
Using apps like SuperTinTin gives you a chance to record and repeat your Spanish tutorial sessions for future reference.  You can even preserve videos for posterity or playback.
Alberto Vara, an online Spanish teacher who uses Skype to teach Spanish said, "Imagine you want to tell your girlfriend to buy you a beer.  You can do it in your own language, but how cool would it be to do it in Spanish??"  Now you'd say "Me compras una cerveza, por favor?"
After learning Spanish through Skype, you can now put that Spanish book back on the shelf and get ready to travel to Spain and run with the bulls!