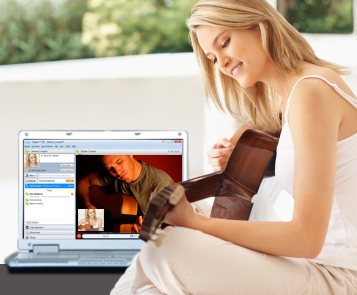 Skype has the power to bridge borders. No matter where you are in the world, you can get connected with anyone at any time. We know that families use Skype to catch up with their relatives across the globe. Likewise, we know that businessmen and students use it when it comes to meetings and deliberations. But did you know that instructors have started using Skype for teaching?
CNET's video team connected with Lance Allen, a Nashville, Tenn., based guitar teacher, who is only one out of the many others who rely much on Skype's video conferencing feature to provide lessons to interested individuals anywhere on the map.
CNET had to see it to believe it and so one of Lance's class with a student from San Francisco was observed from start to finish. It came out impressive really that the 2,300 miles that separated the teacher from the student did not even cause a problem during the lecture. Distance wasn't ever an issue since both had up-to-date computers, a speedy yet reliable internet connection, and of course a perfect video conference program: Skype.
So see? Now there is no more stopping us from learning from the best. Learn to play the guitar, ukelele, or any instrument you want. Get connected with music instructors and learn through Skype!
While you're at it, why not record it? Keep your video conferences recorded through SuperTinTin and you can continue learning on your own even after lessons. SuperTinTin records all audio and video streams including Skype voice mail and screen sharing video. Supertintin records Skype calls by capturing original media data while making sure there is no data loss.
So why not give it a try? Take a lesson and get it recorded. Keep a copy of each and every video chat you had so you can learn quicker and remember faster in no time!