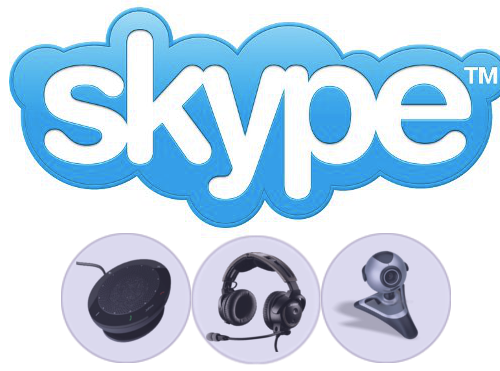 You've set up your computer, your webcam, a headset, and a fast internet connection to boot. Fully geared for that family reunion that took half a year to plan, you open Skype and initiate the conversation, only to find that your sound quality is as clear as a stuttering whisper on the opposite side of the room and the video is a confusing mess of colors and pixels.
In precious moments like these, you must not be caught unprepared with lackluster hardware. Here are some tips that will help you scout the right Skype hardware for that perfect conversation.
1.)   A headset is a good choice if you don't have anyone else with you on your side of the conversation. Not only you can hear the other party better, the headset's mic is also closer to your mouth which easily captures sound compared to using your laptop's built in mic which is usually not the ideal choice for calls.
Choose a headset that is comfortable to put on so that it won't be a hassle when it comes to long conversations.
2.)   Contrary to the first item, a headset is obviously not what you should use if you are with several other people on your end of the call. A USB speakerphone will do the trick, as it allows your group to speak unlike using a small microphone which might only capture a voice or two.
Speakerphones also provide useful controls like answer / end / mute buttons and volume adjustment buttons.
If you happen to have an Xbox One, the Kinect 2.0 can also be used in a group conversation as it has both camera and microphone.
3.)   A good webcam ensures that they do not see your face in a grainy, pixelated mess, as bad quality cannot be compensated by a fast internet connection. High definition webcams are capable of transmitting crystal-clear images even in poor room lighting, as they automatically adjust to produce the best image as much as possible. They are also a must if you always record Skype calls with software like Supertintin.
Keep in mind that most webcams have built-in microphones, but still this isn't a good substitute for a separate microphone.
With the perfect hardware for the perfect conversation, no more will you be hindered by unintelligible audio or poor image quality. If you still haven't upgraded your equipment, head out to your nearest electronics shop or at Skype shop and gear up for a better call experience.