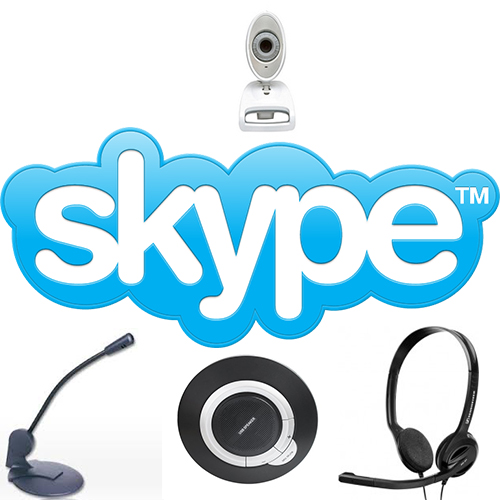 So you've installed Skype and notified your loved ones that you are ready for your very first online conversation. But before you get started, you'll have to make sure that you have all the Skype accessories you need: a microphone, speaker, and a webcam or else you'll only be able to send and receive messages and cannot take full advantage of Skype's powerful features.
Most laptops nowadays have built-in microphones, speakers, and webcams, although their quality is subpar compared to their separate counterparts. Purchasing a speaker and a microphone would be great if you want your conversation to be of good quality, but it is more ideal if you choose to buy a headset so that you'll get both speaker and microphone in one device. Plus it will only be plugged into one port on your computer contrary to buying a speaker and a microphone which will take up two ports.
If you want to broadcast a crystal-clear image, make sure that your webcam is of great quality as well. These kinds of webcams easily adapt to changing light conditions, and some even have built-in microphones as well although you really shouldn't rely on that. There are also wireless webcams that can offer mobility without sacrificing quality like Amaryllo's iCam HD which is specifically designed for Skype.
If you're unsure on what brand of accessory to buy, or if you are doubtful at its performance then just head over to the Skype shop to find accessories that are certified to work with Skype without any hassles. Keep in mind that the accessories sold at the Skype shop aren't manufactured by Skype but by third-party merchants that have excellent reputation in terms of quality and performance. They are also great if you love recording your conversations with your favorite Skype video recorder like Supertintin.
So what are you waiting for? Visit the Skype shop and buy high-quality accessories for that high-quality conversation you deserve!