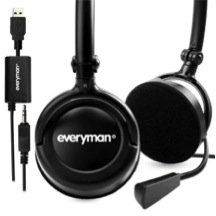 For private conversations, you will need a headset or handset.  Don't have these yet? No need to worry. Skype Shop can provide you with all the accessories you need to enhance your Skype experience.
PCs and laptops usually have built-in microphones and speakers. This may work if you will use it for meetings or conversations where the audio needs to be heard by multiple people. You may not get the best audio quality but it will definitely serve its purpose. However, some people require privacy when engaging in a Skype call.
Also, people want to record Skype calls with clear audio which may not necessarily be effective when using audio loudspeakers. This is why it is ideal to buy a headset or handset. Recording quality will greatly improve because it has additional features like noise cancellation.
There are Skype Certified accessories that are guaranteed to work well with your computer available at the Skype Shop. While other accessories may work with your PC or laptop, it is still best to get them from certified retailers.
While they may not be manufactured in-house, Skype shop supplies are provided by reputable third-party merchants. You are sure to get the best quality of accessories as these merchants have excellent reputations in selling electronic items and provide a variety of Skype Certified accessories.
If you still cannot decide which accessories you need, take your time. Remember that you can still communicate through Skype by sending and receiving messages through the messaging tool.