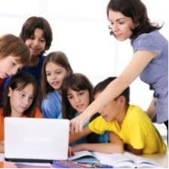 An important application of Skype is in teaching, especially if you are a teacher, you can use the group video call feature of Skype to connect to a maximum of 9 individual accounts and teach them all at the same time.
Here are some ideas that you can use in your teaching profession:
Group video call inside your classroom. You can invite a guest speaker in Skype and involve as many students as possible. You do not have to worry finding a large room for this kind of activity because all of the classroom in your school can be remotely connected to Skype.
Learn more about the cultures of other countries by inviting guest speaker from other countries. In this way students can learn to respect the cultures of other countries and even learn songs from different countries. Singing foreign songs can be a very enjoyable activity for your students.
These ideas are just simple guides for you. You can always think of other ways to use Skype for your students to enjoy and learn at the same time. Be sure that you also teach them basic Skype courtesy like, wait for your turn to speak or talk, speak clearly, and look on the webcam when speaking.
On your part, you should always do a test call before the actual call so that you can minimize technical difficulties during the calls.
You can also record Skype calls by using recorders that can be downloaded in the internet. One of the most reliable and easy to use recorder is Supertintin Skype recorder. You can visit their website at supertintin.com to know more about this cool recorder for Skype.