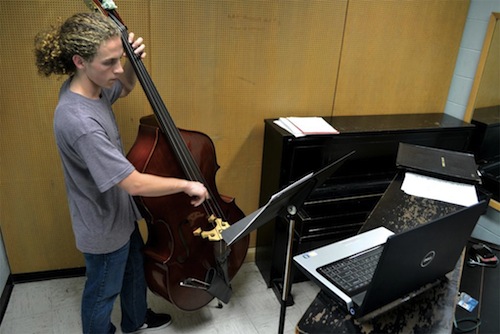 Music is the connection to one's soul and it's no surprise that more people are getting interested in enhancing their artistic side. However, getting a music teacher that suits the student's needs can be difficult and it will get more difficult if the latter is always on the move.
As a music teacher, the possibility of setting up an online music lesson might have already crossed your mind, but the difficulties associated with it might have also stopped you from pursuing the business. Well, the good news is, you can earn online with the help of Skype. Just follow the basics below and you'll be good to go.
Setup Your Online Business
One of the first requirements that you need in setting up an online music school is the vast experience in teaching music lessons. This will make it easier for you to adjust and deal with the trial and error process that comes with teaching music via Skype.
Another helpful tip is to start reading articles about the success of other people's online music school so you'll have an idea how to start such a business, deal with changes, and survive to success.
Download Skype and other helpful programs
Of course you'll need Skype to make this business a possibility so if you still don't have it on your computer, search the net for links where you could download the app. You don't even have to pay for anything because Skype is a free web and mobile app.
You may also want to consider using Skype video call recorder programs, such as SuperTinTin, so you could record your lessons and send them back to your students so they could review it for the next module.
Setup Paypal or other online accounts for payments
Yes, we've all heard the terrors and dangers of making payments online and this may be one of the reasons why establishing an online music school is something you're afraid to do. Well, fret no longer because there's always PayPal — the easiest and safest way to send and receive money online. But if you still don't trust financial transactions being done over the internet, you can have the payment deposited directly to your bank account.
Setup your teaching studio
How someone or something looks is one of the first judgments that we make thus, it is only of utmost importance that you make your studio look professional and tidy, even if you're only conducting your lessons online.
Another thing to keep in mind is to keep your camera at an angle that shows the clearest and best view of your demonstrations.
Prepare necessary paperwork
After everything's been arranged, take enough time to come up with a definite Terms & Conditions that your student must agree on and sign. This should include your policies on payment, schedule of lessons, cancellation and what to do in the case of technical interruptions. Try also to include the software and equipment that your students should have to make the lessons more interactive and effective.
Teaching music online with Skype will include changes and adjustments the same way you do with your usual teaching material. Once you get the hang of it, surely you'll come up with techniques of your own that are efficient and effective for you and your students.