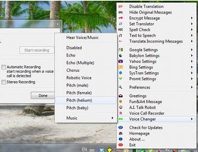 As a Skype user, you and the other person need to understand each other very clearly. If you don't speak the same language, it is a huge waste of time for both of you to do a separate online translation that needs a lot of copy-paste. But not anymore, Clownfish Translator for Skype has a smart and effective solution for you. Here is a step-by-step guide on how to use it effectively.

Download Clownfish and Install
Downloading Clownfish does not hurt your wallet because it's absolutely free, thanks to its creator, Bogdan Sharkov. Running and installing the app is no different from other software. Configuring the app just takes a minute or two, without the hassle of answering tough questions. Once installed, Skype will only ask you to authorize the new application. 
Choose your desired language
Start the program and it will lead you to the main menu, where you can find the several choices of settings for your language translator. Clownfish supports leading translators such as Google, Yahoo, Windows Live, SysTran, and many more. More than 50 languages around the world are available, which include English, Filipino, French, German, Italian, Japanese, Korean, and Spanish, to name a few. 
Write Messages
This is the best part. You may now start writing your messages, and let Clownfish do the hard work for you. An automatic and manual built-in spell checker can be enabled and disabled. You can also choose to enable text-to-speech for incoming messages, as well to activate translation of your incoming messages. If you're talking to your friend, you can send them predefined greetings and send predefined art drawings.
Voice Call Recording and Voice Changing
You can use a Skype recorder to record your conversation, and even change your voice. To record Skype calls, an option of automatic recording when a voice call is detected can be made by checking the box. You can also view all the recorded conversations and save them in your computer, or delete all of them instantly. Changing your voice can be made via a list of different audio effects.
Finally, using a safe and reliable Skype video call recorder like Supertintin will be such a big help. With Supertintin, you can record your conversation with your friend or business partner for a very affordable price.