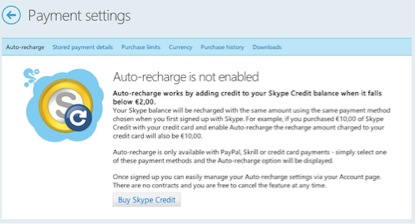 When you buy Skype credits, auto-recharge is automatically enabled. It's good to remember that what you top up the first time you buy Skype credits will be the amount that Skype auto-recharge will top up to your account.
For example, if you bought £20 of Skype credits for the first time, £20 of credits will automatically be topped up to your account when it goes below the minimum amount. The good thing though is that you can manually change the auto recharge amount.
If you want to disable Skype auto-recharge, you can do it manually. You just have to:
Sign in to your account.
Go to Account details section and click Billing and Payments.
Click the disable button.
Subscription auto-renew is also set on default. If you want to cancel a subscription, all you need to do is:
Sign in to your account. On the left side of the page, click the subscriptions button.
On the subscriptions page, click Settings beside the subscription you want to cancel.
Click cancel subscription.
A confirmation page will pop out. Confirm to cancel.
You have to remember though that even after you cancel your subscription, it will still remain active until its expiry date. So if you cancel a 5-month subscription on the third month, your subscription will still remain active for 2 more months.
If you want to get you money back, you have to ask for refund within 15 days of purchasing your Skype Credits. You can only ask for a refund if you haven't used your credits.
To request for a refund:
Click this link. Sign in to your account.
Choose Payments in the Choose a help topic section. Click Refund Requests under Choose a related problem section.
Click the Continue support request button at the bottom of the page.
Choose from either email support or chat support.
If there are any more problems regarding your refund, you can always contact Skype Customer Service.
PS: Did you know that you can use a Skype recorder to record important conversations. Supertintin is a safe, easy, and powerful tool that lets you record Skype video calls or any conversation for that matter.