Although Skype tries its best to offer the best of its services, it can never be avoided that customers might find that they are not getting what they are paying for.
How To Request a Skype Refund
Skype gives refunds for its products with regard to its refund policy section found in its Terms of Use. Keep in mind that you may request for a refund of your Skype Credit only within 15 days from its purchase, only if you have not activated it. As for the subscription, you can ask for a refund if it hasn't been used and has not expired.
To request a Skype refund:
You must first go this site and sign in your Skype Name and password. After, you select the help tab "Payments" and the related problem "Refund Requests." you will find, at the end of the page, "Continue support request."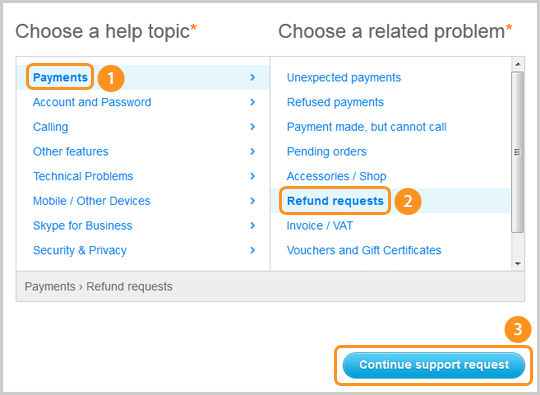 After clicking, you select how you want to contact Skype. It is either "Email support" or "Chat support." The previous being done through a descriptive email correspondence or the latter being done through real time communication with a Skype representative.
Do keep in mind that refund payments will be made using the same payment method used to make the initial purchase. That means that Skype cannot complete the refund if the original payment method is no longer available. Make sure that the credit card has not expired, the PayPal account is active or the payment method chosen allows a refund.
Have that all cleared up, and for sure customers will be able to get back the money that is rightfully theirs. Paid services can be a risk sometimes but it's always about a customers judgement towards the product. Skype is a trustworthy brand that aim to serve and provide the best of its offers, much like SuperTinTin.
SuperTinTin is a third party Skype application that help you maximize your Skype experience. For a reasonable price, you can enhance the way you use Skype for meetings, interviews, virtual lessons or simply family chats. It records your video and audio calls and stores it for safe keeping. SuperTinTin allows you to make the most out of Skype. Why not try it? It's a program like Skype that's worth your money!