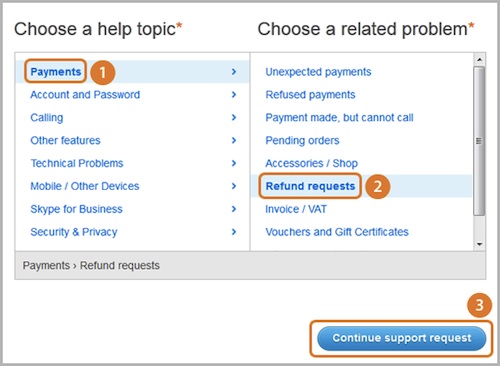 It happens to the best of us. There will come a point where you shall be requesting for a refund of the service or product you just purchased for reasons that can be as simple as faulty products to something as mundane as, you have no use for the service.
So, you've decided to get a Skype refund. But how exactly do you go about it? Here is a quick run-down of how to request for a refund:
Contact Skype Customer Service
If you are unhappy with a particular service, contacting the customer care representative first. She shall assess whether such a request is permissible through the following factors:
a)     The service has not been used within 15 days of purchase
b)    The service is not yet expired
If the above has been cleared, the representative shall guide you through the refund process one by one.
Log into your Skype account
The representative shall request you to log in to your Skype account and enter your Skype details carefully:
Enter your Skype name
Enter your password
Click on Sign Me in
Refund Payments
Once inside your Skype account, the representative will then request you to do the following:
a) Go to Payments
b) Go to Related Problems
c) Click on Refund Requests
d) Your Skype representative will then request that you click on continue support request located at the bottom of the page
Congratulations! You've finally sent your Skype refund request. For future reference, we shall be giving you options on how to contact us. You may use our chat support OR you may want to use email support instead. Whichever is more convenient for you, the choice is yours.
PS: For your entire customer service calls that involve the use of a good Skype recorder, please don't hesitate to contact us. Make sure to use Supertintin!