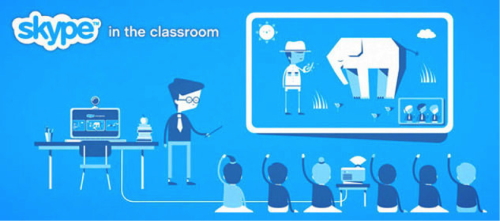 The world is your classroom. We might have heard that in the past from our professors. But through this wonderful Skype innovation, you can literally connect with hundreds of teachers and students across the globe. The information exchange among the participants will let you discover a new way of learning.
And of course, if you are a teacher and wanting to try something new and interactive, we recommend you to try and incorporate "Skype in the Classroom". This gives both students and teachers a venue to share thoughts, exchange ideas and discuss lessons at the convenience of their own home or office.
Go ahead and follow these very simple steps!
When you go to https://education.skype.com/ and logged into your account, you would have to register for a lesson. You can search for specific topics as diverse as culture and language or as complex as technology. You also have the option of browsing Skype collections. Once you have found the lesson you are interested in, just click on "Register for this Lesson".
Once you have registered for a lesson, you would have to choose a specific timeslot you want to participate in. The great thing is that you can select as many of these slots, if you are really that eager to participate and join the discussion. You also have the option to recommend a timeslot.
You will then be receiving a confirmation e-mail, indicating that you have successfully registered and joined a lesson. The final step is to contact the person holding the lesson, just so you can prepare for it.
You can also install a Skype video call recorder, like Supertintin, to save valuable information you have learned through your online discussions.
Whoever said that classroom discussions can be very dull and boring might have never tried learning through Skype. Share this to your friends and colleagues!