During the holidays, we can't forget to at least reach our loved ones abroad. We even want to send them gifts if not only it takes time and money to deliver these. Now, Skype has launched Gift Cards that can be shared and sent easily as gifts; for as low as $10.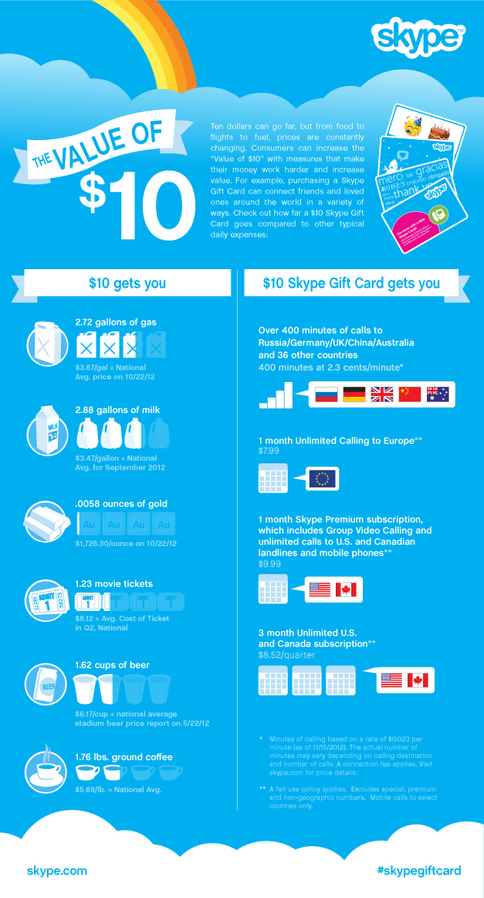 Skype's Gift Cards let you share Skype credits to anyone around the world. With this, the recipient has the chance to make telephone and mobile calls, and send text messages to you wherever you are. They can also use the Gift Card to access Skype's WiFi service at designated global hotspots.
How does it work?
1. You can personalize the card by choosing the design, gift amount, and language used. You can also customize the message for the card you wish to send.
2. Choose how you'd like to pay (credit card or PayPal), then complete your order with ChatandVision.
3. Your gift card will be emailed to the recipient.
Skype's Gift Cards are now available online in 44 countries. Creating gift cards isn't limited only in Skype Shop; you can also make and pay for one through Facebook. Cards created from Facebook can even have photos, audio and video messages attached to it.
Announced earlier this month, physical gift cards are now also available through the company's  physical stores. The cards are available for purchase in the U.S. retailers Target, OfficeMax and Microsoft; UK retailers Asda, Currys, PC World, WHSmiths and the supermarket Sainsbury; and retailers in Mexico. More countries will be announced soon.
So when a special day is coming or whenever you just want to talk to someone far away but don't want to spend much for a plane ticket or overseas shipping, sending a Gift Card is a good idea. It's easy and affordable that makes you closer to anyone around the world. Don't forget to have a free Skype video recorder to avoid missing out details or moments when they finally reached you.