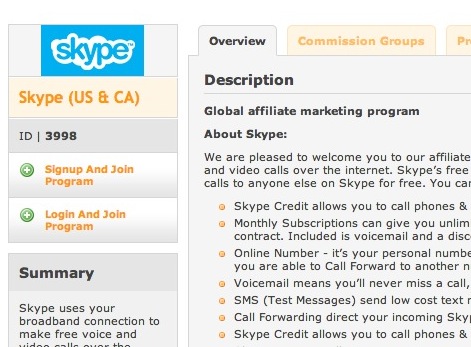 Skype Affiliate Program is a free registration affiliate program that allows online site owners, internet developers; online entrepreneurs and webmasters earn money through promotion of Skype. When you join as an affiliate, you can receive a commission on the Skype product order placed by the customer you have successfully referred to Skype.
To Join Skype Affiliate Program
There are 4 very easy steps to sign up and start earning commissions via Skype Affiliate Program
Step 1: Open this link on your browser: http://affiliates.skype.com/join/ and scroll down to find your suitable location, and then choose your network partner.
Trade Doubler
Affiliate Window
Commission Junction
Step 2: You will be sent to another page in which you will fill in with your details as part of the sign up process.
Step 3: In your website, you can now place networking links to Skype.com. This will send potential Skype customers. If they buy one of Skype's eligible products, you will earn a commission.
Step 4: Enhance links to surge up sales. You can do this by updating your websites with more relevant contents, keyword rich articles and other SEO methods to boost clicks that would eventually turn out to more sales. More sales coming from your referrals mean more commission on your part.
Earnings and Payment
At the end of each month, a tally of sales will be generated from your site. Your earnings will be verified by Skype team and your commissions will be sent after validation of the purchase. The validation period for an order may take up to 60 days.
You will be paid via check release or through your bank account depending on which one you choose as payment scheme on the affiliate network during your sign up process.
What are the "eligible Skype Products"?
You can earn commission within the referral period of 30 days when your referrals purchase one or more of the following eligible products of Skype:
Skype Credit
Skype Subscriptions
Skype Premium
Online Number on Skype's website
How does it work?
From your website, when a customer clicks any of the links in your site, a "referral cookie" tags his or her browser as indication that the customer came from your site and will track the time and date he or she first clicked the link. If the customer revisits Skype within 30 days from the first initial visit and makes a purchase in any of the eligible products, you will receive a commission for that purchase.
PS: Record your Skype calls using Supertintin!